Venky Mama Movie Review & Rating..
4:17 AM: The much publicized Army action episode of Naga Chaitanya is very long and it's alright.The twist and its lead to climax and movie ends on a happy note.
4:13 AM: now the film is heading towards the climax.. Some emotional scenes are going on between Venky and Chay.
4:10 AM: High voltage Army episodes of Chay are going on.. A MAJOR TWIST in the tale takes place.
4:07 AM: Prakash Raj explains Venky that Chay went on an operation to kill the terrorists who attacked Church.
4:02 AM: Done with the short flashback towards to Chay actually decides to leave him and join army. Venky is now going to meet Chay..
3:50 AM: Misunderstanding between Venky and Chay. Chay leaves house because he reads Venky's horoscope and finds out that he will be the reason for his uncle's death. An intense drama is on now..
3:45 AM: Venky mama rushes to school and trying to save kids from fire… MLA tries to burn down the school building and hostel, while Karthik is involved in a fight with goons in the same building.
3:38 AM: Venky and Payal likes each other. towards to Coca Cola Pepsi song.
3:30 AM: Second half starts. Venky goes to meet Chay at Military area
3:15 AM: Time for interval… With an interesting twist in the tale, the film comes halfway.
3:10 AM: Movie is marching towards the interval block with a highly authentic action sequence.. An out and out mass fight between Venky and goons. before that Some family drama scenes are going on between Venky, Chay, Nassar,Rao Ramesh and Raashi
2:58 AM:Comedy scenes between Payal, Venky, Chay and Hyper Aadi are on. This comedy sequence is good. Yennalakko a old-fashion song is on between Venky and Payal Rajput
2:47 AM: The movie is on a shifting mood. Now, again the film is back in the village. A few comedy episodes are on between the lead artists. Scenes are not free flowing, abrupt cuts. Payal meets Venky. Comedy scenes are on. Boring comedy scenes are going on..
2:42 AM: He knows that Karthik is working in Army but he doesn't want Venky to know that.
2:38 AM: The film shifts to present days. In Kashmir, Prakash Raj has been introduced as an Army Major
2:32 AM: Second song Nuvvu Nenu between Chay and Raashi is on now. The backstory of their love tale is being narrated…
2:30 AM: RX100 beauty Payal Rajput is introduced as a Hindi teacher in the same Village..
2:25 AM: An interesting scene is on between Dasari Arun Kumar and Rao Ramesh which hints a failed love track between Chay and Raashi… Time for flashback love story of Chay and Rashee..
2:18 AM: Hyper Aadi entry with Raashi Khanna.. Comedy scenes between Naga chaitanya..
2:15 AM: Rao Ramesh enters as MLA.. Venky and Chaitanya enter into Rao Ramesh house warning to MLA who aims to build beer factory in school land.
2:08 AM: Raashi Khanna superb entry as a MLA daughter…
2:00 AM: Chaitanya enters the scene now and his name is Karthik. He goes to village to meet his uncle Venky.
The film goes back to three years, Naga Chaitanya has been introduced as Major Karthik. Now, it's time for the title song Venky Mama
1:55 AM: After a brief introductions, the film moves to Kashmir location. In 2019…a terrorist attack is on Church and kill people. Venky enters Kashmir but gets nabbed by the terrorists and investigate.
1:50 AM: Victory Venkatesh makes a simple entry in a highly emotional scene. Actor Nassar also joins the scene as an astrologer…Nasser rejects daughter's marriage with a guy as the horoscopes does not match. So the couple elope and get married, but gets killed in an accident. They have a Naga Chaitanya (Baby Boy) and gets pampered by Venkatesh (Nasser's son). Nasser stays away from Naga Chaitanya.
1:44 AM: Movie started. film kick-starts at a temple in the year 1993 back drop..
—————————————————————————————————-
Movie Name: Venky Mama Telugu Movie
Rating: US Premiere Live Updates
Release date : December 13, 2019
Starring : Venkatesh, Naga Chaitanya, Raashi Khanna, Payal Rajput
Director : Bobby
Producers : Suresh Babu
Music Director : Thaman
Victory Venkatesh and his nephew Naga Chaitanya's much-awaited family drama, Venky Mama is all set to hit the screens in a few hours.As the film is the first outing from the duo, the expectations on the film are quite high among the trade circles. Along with Venky and Chaitanya, the film has an added advantage in the form of happening beauties Raashi Khanna and Payal Rajput. Both heroines are expected to provide enough eye-candy treat to the audience.
Already, Venky Mama's songs and theatrical trailer are also received well by the public and as this is the first big film in Tollywood after almost 2 months gap, the audience, who are awaiting a solid film are expected to throw in big numbers.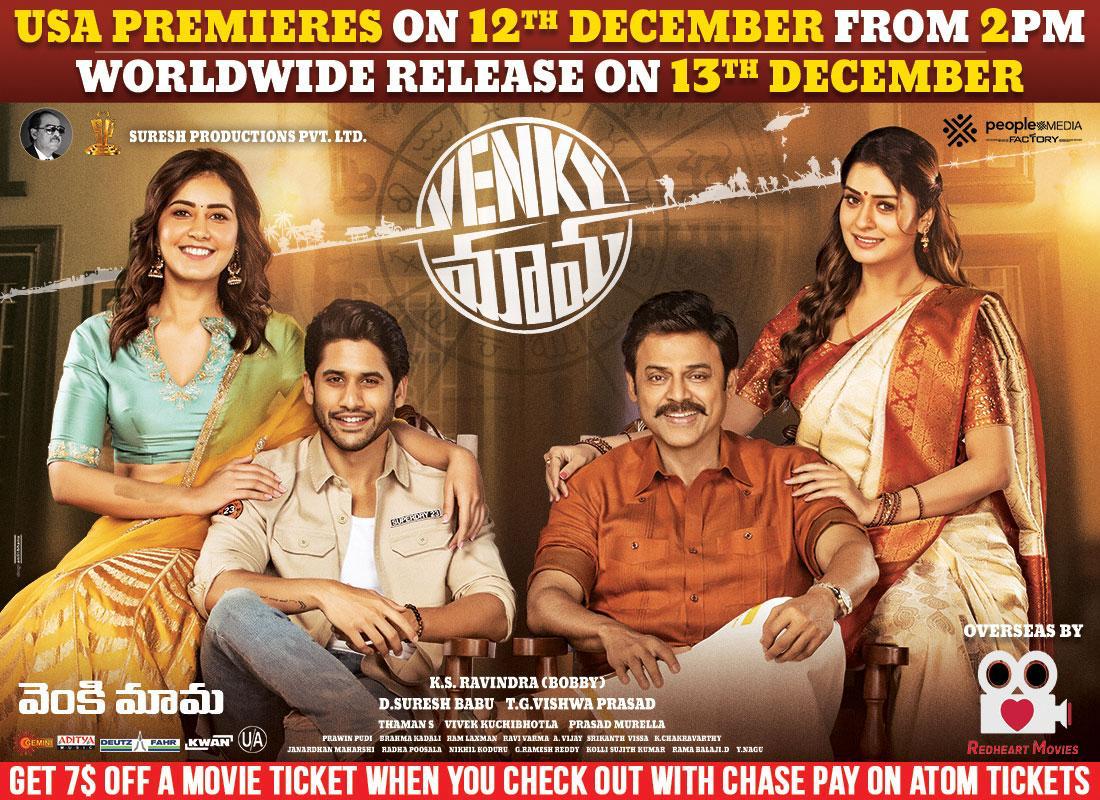 Adding to it, as the film is a solo release this week at the box office, the opening is definitely going to be on a huge scale and is expected to take a flying start at the ticket windows.
With a super positive atmosphere surrounded, hope Venky Mama emerges as a memorable hit for the team.